I will try to document something great. Andree. She is uncomfortably great. I will say 'she' but know that traditional gender definitions do little to describe 'her'. In fact, to experience Andree is to question your own identity.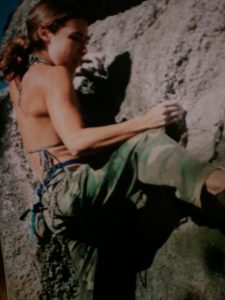 About a decade ago I was bouldering at Pine Mountain with some folks I can't remember when someone unremarkable whispers, "Is that Andree?". I knew just about everyone in the small Santa Barbara climbing community so I looked up expecting either a familiar face or someone to re-file under forgettable. Rather, I was introduced to my life's epoch. I said nothing. I think she was wearing Army fatigues and a tank top. Who knows. There was a look on her face that is to this day difficult to explain. It was not happiness. She looked mildly annoyed or a bit underwhelmed with Earth. I don't really remember what happened after that.
Dre came over to train, of course, one-arms in my garage this evening. It was, of course, awesome. Imagine Prince strolling into your local gym to pound out several plates on the bench press. It is an awkward sensation to have someone simultaneously redefine your understanding of physical power and sensual desire. It is to experience, in a word, Andree.